Mushroom
Observer Introduction How To Use

Account:

Login Create Account Observations Create Observation Sort by Date Latest Changes by Users Images Comments Species Lists Create List Sort by Date Sort by Title Indexes Glossary Herbaria Locations Names News Projects More How To Help Donate Feature Tracker Send a Comment Contributors Site Stats Translator's Note Publications

« Prev | Index | Next » Name: Fusarium graminearum Schwabe Edit Name
Bulk Name Edit
Add Name
Change Synonyms
Deprecate
Email Tracking
Most Confident Observations:
Show Original Image

| Show

EXIF

Header " href="http://mushroomobserver.org/images/1280/193201.jpg">

Copyright © 2012 damon brunette (damonbrunette) Version: 1




First person to use this name on MO: Jake Cox


Observations of:

This Name (2)

Other Taxa, this name proposed (0)

Other Taxa, this taxon proposed (0)

Nomenclature:

Rank: Species

Status: Accepted

Name: Fusarium graminearum

Author: Schwabe

Citation:

Synonym(s): Gibberella zeae (Schwein.) Petch

Classification:

Domain: Eukarya

Kingdom: Fungi

Phylum: Ascomycota

Class: Sordariomycetes

Order: Hypocreales

Family: Nectriaceae

Genus: Fusarium

Lifeform:

Lichenicolous

Brief Description: See More | Edit

Hyaline septate hyphae, conidiophores, phialides, macroconidia, and microconidia are observed microscopically. Macroconidia are two to multicelled, are sickle-shaped, and have a distinct basal foot cell and pointed distal ends. Fusarium grow rapidly on Sabouraud dextrose agar at 25°C and produce woolly to cottony, flat, spreading colonies.From the front, the color of the colony may be white, cream, tan, salmon, cinnamon, yellow, red, violet, pink, or purple. From the reverse, it may be colorless, tan, red, dark purple, or brown.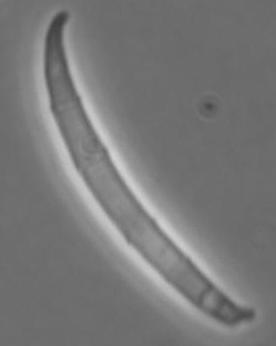 The teleomorph of this organism is Gibberella zeae , and is characterized by purple to black perithecia.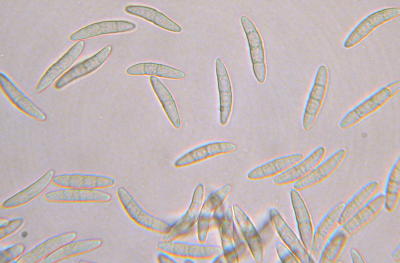 Tom Volk's page on Fusarium graminearum , aka Gibberella zeae

Descriptions: [ Create ]

Public Description (Default)

[ Edit ]

Draft For 2008/2009 Eol University Species Pages Initiative By Sgruszka (Private)
Comments
Add Comment No one has commented yet.

Created: 2009-04-15 16:11:06 PDT (-0700) by Jake Cox (jakecox7)
Last modified: 2010-04-11 05:20:08 PDT (-0700) by Jake Cox (jakecox7)
Viewed: 1152 times, last viewed: 2018-03-26 12:22:51 PDT (-0700)
Show Log